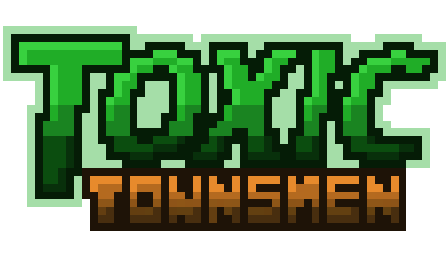 Toxic Townsmen
A downloadable game for Windows and macOS
Toxic Townsmen, is a 2D twin stick shooter set in medieval times with the player being a modern day soldier. After a military experiment goes wrong, the player is sent back in time to the 1300's. The locals don't like the stranger and with his weird weapons, the King sentences you to death. But you wont go down without a fight.
Fight through waves of angry medieval knights, archers and mages with your gun. But your final challenge will be the hardest.
Download
Click download now to get access to the following files:
Comments
Log in with itch.io to leave a comment.
I want to know how you make a first unity animation and custom window, sorry for my bad english.
A really fun game, feels good to kill the enemies with the red flash and screen shake, but audio would really help it, would make the game feel a lot more engaging. The boss was really fun, the game controls very well and is really well balanced with it being fairly difficult but not too difficult. The game could definitely use some sound effects or music, the health bar also doesn't seem to go to nothing when you die which means it's not clear when you're about to die. Also an end screen would be really appreciated. Great game all in all and I hope you're continuing to develop this.
Thanks for the feedback. It's for a small game jam at uni but I am indeed going to continue developing it. Music, sounds and a win screen are certainly going to be added.